Tamarack Products offers many options for Hand Tools. We can group several parts together in one pouch with seals between them to create sets of tools or do the same with a Tool Roll that can be rolled up and secured with heavy duty elastic to keep in your tool box.
---

Vinyl Pouches with Ziplock Closure
Our Vinyl Pouches have several options for closing; Ziplock, Flaps that close with Snaps, or "Hook & Loop" or that can be tucked under a strap or simply tucked into the pouch itself. We can add a Sealed Hang Hole or "Butterfly" to any of our pouches or, for added strength, an Aluminum Grommet.
Available in a variety of sizes, our Ziplock Pouches can protect your Tools or Parts from dust and/or moisture. Hanging Options include 1/4" Round or Butterfly Style Hang Hole as well as Metal Grommets for heavier items. Ideal for garages, warehouses, and construction sites. These Pouches can be divided into smaller sections or pockets for sets of small items of similar size. Material and Print Customization available.
---
Tool Rolls
Our Roll-up Tool Pouches can be custom made to your specifications. Many material choices and colors are available. Elastic Loops hold tools securely after rolling. Custom printing is available, as well.




---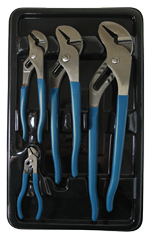 Tool Trays
Our Tool Trays can be formed from rigid materials to fit your tool set. Ideal for any custom set of tools. Each cavity is formed to hold your parts securely. Rigid, clear formed covers complete the package.





---

Multi-Pocket Pouches for Tool Sets
Our Multi-Pocket Pouches can be constructed to your specifications. From Ziplock to Flap Openings with Hook & Loop or Snap Closures, our Pouches can accommodate a variety of tools. A variety of Colors for Materials and Printing are available.
Drill Bit Sets
Files
Small Hand Tools
---
To find out more about Tamarack Products, please: