Tamarack Products offers several products for your Sports & Lifestyle needs. Banners, Team License Plates, and Stadium Seat Cushions can be custom printed with your team logo, message, or advertising information.
We have several styles of Credential Holders for your I.D., Tickets, Passes, or anything else that you may need to display. Clips, Pins, and Plain or Printed Lanyards are also available.
Fishing License Holders, with or without customization, are also available. These come complete with a brass tone crimp pin for attaching to your hat, vest, or anywhere else you would care to display it. Our Fishing License Holders are sold by the gross and come in a printed display box for your counter.
---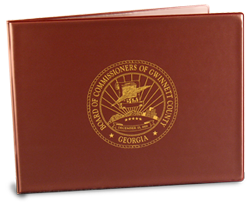 Award Folders
Our Award Folders feature (2) Clear Inside Pockets that load from the center (folded area) along the short dimension. Constructed of Standard or Premium .012 Opaque Vinyl over 100 Pt. Board Stiffener, our Award Folders make a great way to display your next Award or Certificate.



---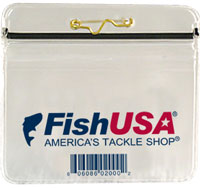 Fishing License Holders
Our Fishing License Holders come complete with a brass tone crimp pin for attaching to your hat, vest, or anywhere else you would care to display it. Constructed of sturdy .010 vinyl, these are sold by the gross and shipped in a 1-gross printed display carton for your counter.
Download Price Sheet / Order Form
Features & Benefits:
Moisture Proof
Plastic-Zip Closure
Packaged 1 Gross (144 pcs.) per Display Carton
Brass Pin
Printing Available
Dimensions are 4" w x 3 5/8" h
---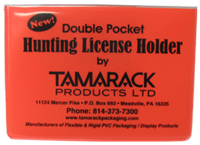 Hunting License Holders
Our HL-2020 Bi-Fold Hunting License Holders have two bright orange inside pockets to allow your license and one other tag to show through on the clear PVC outer layer.


---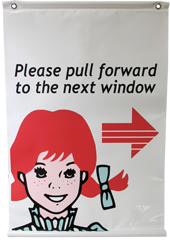 Banners
Our Vinyl Banners are .012 Opaque PVC with your custom copy. Top and bottom sealed area for grommets is approximately 1" high double thickness. The maximum print area is 36" x 17". Contact Tamarack Products for a Banner for your next Trade Show or Special Event.




---

Team License Plates
Team License Plates are another great fundraiser for your local team. Schools, Universities, and Local Civic Groups
are just a few examples of groups that could benefit from the promotion of this useful item. Show your support for your favorite group today!


---

Stadium Seat Cushions
Our 14" x 14" Stadium Seat Cushions are made of .012 Opaque Vinyl and have a 1-3/4" foam insert. Complete with Handle for ease of carrying, these are great fundraisers for your sports team or other groups. Custom printing is available.





---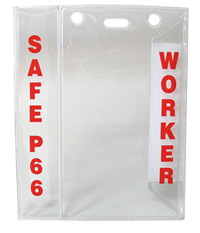 Credential Holders
Our Clear Credential Holders feature durable .020 PVC with a flap that folds from front to back along the long dimension. Center slot, as well as holes on either side, allow for a variety of Lanyard options. The flap is secured with a Hook & Loop Strip. Plain or can be printed vertically on either side of the credential window. Many styles are available. Call for more information.





---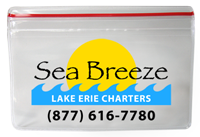 Ziplock Phone Pouches
Going fishing, camping, or boating? Bring along our handy, ziplock phone pouch to keep your phone, cash, license, etc., safe from exposure to the elements.



---

CD Holders
Our adhesive backed CD Holders make for a convenient way to add a CD to a binder or folder. Features a thumb cut in the front pocket for ease of access.




---
To find out more about Tamarack Products, please: